Plastic food wraps are a staple in most kitchens, and they're cheap, easy to use and do an excellent job of keeping food fresh. However, there are some significant drawbacks to using plastic food wraps.
They are harmful to the environment and leach plastic into our bodies.
By opting for a sustainable product, you can avoid these dangers. But not all containers are created equal.
We are looking at the design and the build quality, what temperature changes they can withstand, and how ethical they are. We compared some of the biggest brands, from beeswax wraps to silicone bags, and in this list, we show you what works best.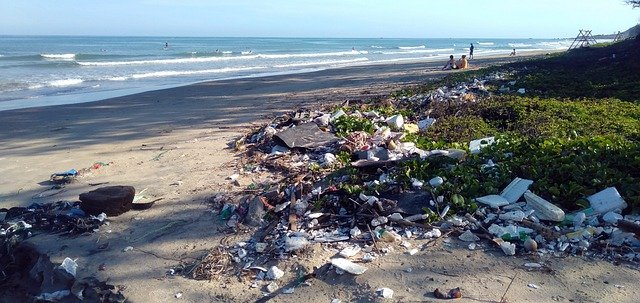 Why should we avoid plastic wrap and containers?
For one, they are harmful to the environment. Plastic often finds its way into our environment because of bad management and reckless handling. There it causes entanglement of our ocean life and slow death.
Every seabird nowadays has been found to have plastic in its stomach. And you probably heard that by 2050 it is predicted that we will have more plastic in the sea than fish.
Second, they can leach chemicals into your food. Every time plastic touches our food, it leaves a slight residue of the chemicals it is made of, which we then ingest. Plastic has been found in human feces and even in our organs.
Here is a list of the best alternatives to plastic food wraps.
Why should you consider buying alternatives to plastic wrap?
---
Manufactured from low-density polyethylene, they are hard to recycle. Over 380 million tonnes of plastic are produced each year, and this number will keep growing. Sadly, only a fraction of 9% is recycled, while 12% end up incinerated, and the rest goes to landfills, contributing to greenhouse gas emissions.
Your food is in direct contact with chemicals used in the plastic to make it soft. One of the main offenders is polyvinyl chloride (PVC). These chemicals have been known to cause cancer and infertility.
It is hazardous to babies and young children. Look around your house and see how many kids' toys are plastic. I wrote an article about the best eco-friendly toys for kids here. I prefer my daughter to play with wooden toys and natural play doughs, and I am confident if you knew more about the dangers of plastic, you would want to do the same. But in this article, we will cover some of the best plastic wrap alternatives. So let's go.
1. Beeswax wrap
I am sure you all have heard about beeswax wraps and are wondering which bee's wrap is the best? I have tested several in our kitchen (well, my wife, really), and we love them.
They are a perfect alternative to plastic cling wrap and don't cost a lot either.
How to use Beeswax Wraps:
Easy to use. Just warm your hands and fold it around the bowl you want to close.
Easy to clean: Use cool water and mild soap to hand wash your beeswax wrap. If food sticks to them, you may have to scrub it off. You may find that they start to stain over time, but that does not hinder them in their performance as eco-friendly and plastic-free alternatives. Let them air dry on a wrying wrack like this one.
If you use hot water, you will melt the wax of the wrap, which makes them go to waste much quicker.
Easy to extend its life: Yes, you can take your used beeswax food wraps and apply new beeswax pellets. I have done it, and it is pretty easy, and this video here shows you how.
Our favorite beeswax wrap is the one from Etee.
Pros and Cons
We like it because it is sticky but not too sticky. Made from organic cotton, it lasts up to a year, and it is easy to bend around and cover bowls. And it keeps food fresh and has an air-tight seal.
Cost: Not the cheapest but worth it.
Fun Tip: Can be used as a fire starter when no longer usable.
2. Silicone Lids
Another great alternative to plastic wrap is silicone lids. Yes, silicone is not a natural product. Although it abundantly comes in the form of silica on our beaches, it doesn't biodegrade when you throw it away, unlike the beeswax wraps.
How to use:
However, it is something that the zero waste community has adopted, and it makes sense. It's easy to use and easy to clean. All you do is pop your lid on the bowl where you want to keep food fresh and suck out the air by pushing on the top.
If you want to learn more about silicone, and how safe it is for your health, check out this article.
We found the GIR lids aesthetically pleasing and a perfect working cover to keep your cheese or meat and any leftovers fresh for days.
You can also place it in the freezer as the air allows enough expansion, and your glass or ceramic bowl won't break.
Pros and Cons
Pros:
Easy to use: Pop it on the bowl and push it down to release air.
Easy to clean. Use mild dish soap and rinse it clean.
Freezer safe, microwave, and oven safe. 100% food-grade silicone.
Cons:
This product will not biodegrade and eventually will end up on a landfill.
3. Stainless Steel Containers
Also known as steel tiffin. These are one of my favorites because I use them daily. Now there are two different types.
There is the Stainless SteelTiffin
This is not insulated but great for packing lunches, and I use it if I can reheat my food somewhere or just for sandwiches or nuts and other dry food wraps. It makes great reusable food storage because you can even bring soup and bread to work in the same container, oh and a little desert fits too.
2. Then there is your stainless steel lunchbox. Ecolunchbox makes some great ones, and they are leakproof and look fantastic.
I got myself the Klean Kanteen insulated food container keeping food warm. Not hot but warm. Both are fantastic options.
Pros and cons:
Pros:
Easy to clean, they don't break.
Cons:
Sometimes a bit hard to open.
4. Glass Food Containers
Then there are your traditional glass containers, and they come in all different sizes and are microwave/oven/ freezer safe.
The one from Glass Lock has a silicone ring to make it leakproof, and the plastic lid is made from BPA-free plastic. That, to me, is the only downside. Eventually, the plastic part will age, and you need to throw it out. However, you may have some beeswax wraps left and can close the glass containers with them.
Proper care makes them last for years.
Pros and Cons
Pros:
Easy to clean, safe for temperatures of -20 degrees to 400
Cons:
Plastic lid.
5. Reusable Silicone Bags
Stasher has been the big name in the silicone bag world and replaces single-use plastic zip lock bags. They are food-safe, great to toss your sandwich in, or store some cheese in the fridge. They are resealable, dishwasher safe, microwave-ready, oven-safe, and even stovetop safe, although I am not quite sure what that means.
They are a great way to keep plastic waste low in your household, and the kids love them because they come in all different colors and sizes and are perfect for packing snacks. We do not recommend going for cheaper knock-offs since silicone needs to be food-safe, and those knock-off brands often add fillers to the silicone to make it more affordable. Learn more about silicone here.
It is worth noting that when your stasher bag has come to the end of its lifecycle, Stasher will happily send you a prepaid envelope so that you can send it back to them for upcycling.
Pros and Cons
Pros: Easy to use, easy
light, and easy to carry. Through them in your backpack, they won't break.
Cons:
Not so easy to clean, expensive.
6. Reusable Produce Bags
These come in handier when you go to the supermarket and shop for your fresh veggies and other bulk produce. As some have holes and don't make for a tight seal, they are not great to pack a sandwich or stuff some raw meat in there.
However, they are great to leave thousands of those little plastic bags at the supermarket behind since they are single-use plastic, and once you get home, they go into the bin. Not your reusable bags. We even have some that have the wight written on them when you buy bulk nuts or flour or anything that needs to go on the scale.
The reusable produce bags make it easy for the cashier to calculate the weight.
They are one of our favorite sustainable products, but you have to remember to throw them in the car before going to the supermarket.
Pros and Cons
Pros: Easy to use, organic cotton, easy to wash
Cons: not freezer safe, not for any wet produce, won't keep your food fresh.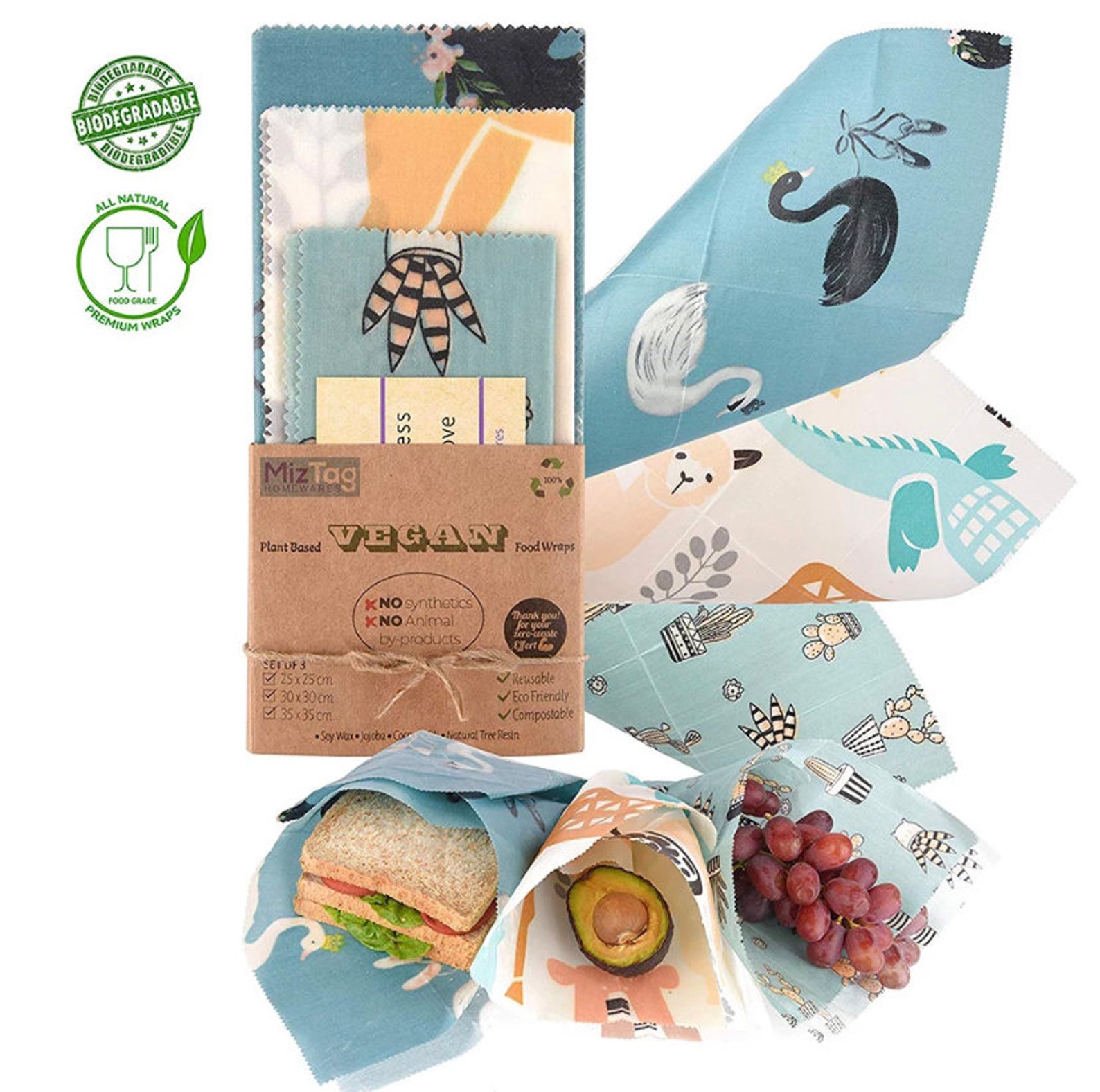 7. Vegan food wraps
We have an alternative for you if you don't want to use beeswax wrap but still want to do your part and avoid plastic cling wrap. The vegan food wraps are made from plant-based Candelilla wax and non-GMO Soy wax.
Vegan food wraps also work as a firestarter, or you can throw them in your home compost, where they will decompose over time, making them a great zero waste product.
How to use:
Like your beeswax wraps, warm them with your hands and then apply them around your bowl or container until sealed firmly.
Clean them with cool water and mild soap to let them air dry to make them last longer.
Get them here.
Conclusion:
As you can see, there are many alternatives to plastic cling wrap, and I hope this inspires you to switch to reusable food storage. It is just as easy to keep food fresh with these reusable options. I find them aesthetically pleasing since most come in different colors and designs. Easy to differentiate which one is for your kid's lunch and which one you use for your favorite cheese.
You are protecting the most precious thing you have, your body. No more harmful chemicals that come in direct contact with your food. If that isn't worth the switch, then do it for your children and the future of this planet.
Thanks for reading, and make sure to subscribe and share this article with your friends.