Did you know that most shampoo bottles contain 70 to 80% water? If you just fell out of your chair, then we can both continue reading on the floor. Yep, water is the main ingredient to help dilute the detergent and make it easier to spread. If you look at the back of your bottle, it'll say aqua which is just tap water added to the ingredients.
Quicklinks
Quick Links
You can think of a shampoo bar as a concentrated version of commercial shampoo in a bottle. Just like the Tru Earth detergent strips or the Earth Breeze ones are concentrated versions of washing detergent, without the plastic waste.
Read the Earth Breeze Detergent Sheets Review
Additionally, it will outlast your bottled shampoo by two to three times.  A 1.9oz shampoo bar can last up to 80 – 100 washes, which equals three 250ml bottles.
But it also depends on your usage. Mine usually lasts for about two to three months, and I wash my hair daily.
If that is not reason enough to ditch the plastic bottle and swap over to zero waste shampoos, then maybe the fact that yearly 1164 football fields of bottles are going to landfills.
They cause many other problems, from taking thousands of years to degrade and releasing harmful chemicals into the groundwater, or bottles ending up in our oceans and nature, where they can do further harm.
Plastic breaking into microplastic, which is ingested by marine life and ourselves. You see, there are plenty of benefits to moving away from conventional shampoo in plastic bottles.
But what about the transition period Mr. Zerowasteman?
Good question. I am glad you asked. And drumroll, please…
Yes, there is going to be a transition period. If you have been washing your hair with chemical-laden shampoos for the last 20-30 years (I am not very good at math), it will naturally take some time for your hair to adjust to natural shampoo bars without any harsh chemicals.
You might notice your hair feeling a bit yucky after the first wash, even greasy or oily hair. That is because you have been slapping chemicals on your poor scalp and it takes some time for the natural oils to come back to their healthy performance. Don't sweat it just yet, it might take you 3-4 washes until your hair has adapted, and trust me, you will never want to go back after that.
If you feel like there is no transition period, then that might be due to the shampoo bar still containing too many chemicals. But this article will give you a good idea of which zero waste shampoo brands are right for you.
You might want to try an apple cider vinegar rinse.
Sometimes the shampoo bar can leave a bit of residue in your hair making it feel waxy or oily. You can use conditioner bars or make your own apple cider vinegar rinse.
1/2 T to 4T of apple cider vinegar (ACV)
8 ounces of water
Dry hair likes less ACV, and oily hair likes more
Additionally, add some herbs or essential oils to make it smell nice.

Benefits of ACV
Balancing, it has a natural PH.
Antimicrobial, really good for itchy scalps or dandruff.
Clarifying;  it also helps exfoliate dead skin cells and wash away buildup from hard water and hair products like dry shampoo.
What is the best zero waste shampoo?
The options have exploded, and there are so many different "greenwashing" companies, which is why it's a bit difficult sometimes for the average user to pick the right ones.
When I say greenwashing, I mean that sometimes these companies market it as a green product. By writing terms like eco-friendly or biodegradable, which sadly in most cases is just a marketing strategy. But how can you see through the BS?
You can learn more about greenwashing in this little video I made
However, often traditional shampoos still use unsustainable palm oil, SLS and sulfates, sodium Laureth, sulfate SLS parabens, artificial fragrances, and silicon. 
And yes, you guessed it right, if they get washed down the drain, they're also bad for the environment.
So that means you are getting safer, healthier, and more natural ingredients when you use a zero-waste shampoo.
But what does Zero Waste Shampoo mean?
Zero waste shampoo bars are concentrated versions of shampoo bottles without the need for single use plastic packaging.
High-quality shampoo bars do not contain palm oil, Sodium Laureth Sulfate (SLS), parabens, artificial fragrances, and silicone. Zero waste shampoo is plastic-free and easy to use.
Pros and Cons of Shampoo Bars
Benefits of using shampoo bars:
They are small and compact
They are easy to travel with
They last longer
They have non-toxic options
They don't use plastic packaging
You can get bars that do both hair and body
Cons of using shampoo bars:
If stored wet, they may melt away quickly
Still contain some chemicals
Take a transitioning period
Avoid these ingredients:
The problem with SLS is that it is designed to leave your hair feeling silky smooth and clean; however, it is a surfactant soap that can dry out your hair and cause psoriasis or dandruff for some people. This means you would have to use a conditioner as well. Personally, I have sensitive skin, and I prefer not to put too many chemicals on my skin. 
Which one is the best Zero Waste Shampoo?
This obviously is different for everyone, since some of us have oily hair or frizzy hair but these are the products that we personally like and feel confident to share with you. Let us know of any positive or negative experiences so we can further update this article and achieve a zero-waste lifestyle together.
1. HiBar
Paraben-Free
Phthalate Free
Sulfate-Free
Silicone Free
Palm Oil Free
Vegan
10% Off With Code ZEROWASTEMAN
Tip: Try the HiBar Moisturize for dry hair
4.4 out of 5 stars on Amazon
Salon quality ingredients, except no water, no plastic but zero waste. The HiBar comes out as our top winner for feel, look and ingredients.
HiBAR Moisturize Shampoo & Conditioner bars are made with naturally nourishing ingredients like coconut oil and rice protein. They're 100% color-safe and leave your hair soft and silky. 
HiBar means no soaps, sulfates, phthalates, silicones, or parabens. And absolutely no cruelty. They received the Leaping Bunny certification.
2. Ethique
Tip: Try the Heali Kiwi bar for itchy scalps.
4.6 out of 5 stars on Amazon
It all started in New Zealand. The first bar was created in a student's kitchen. After a successful crowdfunding campaign, it turned into a global company. Now you can buy ethique ( french for ethical) all around the globe.
They are cruelty-free, palm oil-free, sustainably produced and biodegradable. They have a nice natural scent and don't leave any residue on your hair. Some shampoos use silicone for the feel, not ethique. We didn't find any harmful ingredients in their shampoos hence why they are on top of this list.
Additionally, they have expanded their product range to further reduce plastic waste by creating more skincare and body care products, such as deodorants and lip balms.
Bonus points for planting a tree for every order.
3. Eco Roots
Eco Roots
Handmade in the USA
Phthalate Free
Silicone Free
Paraben-Free
Palm Oil Free
Vegan & Cruelty-Free
Plastic-Free Shampoo & Shipping
Color-Safe
Tip: Try Moroccan oil for colored hair.
5 out of 5 stars on EcoRoots
Ecoroots started out in Aspen Colorado, with the aim to reduce our overall plastic consumption while creating cruelty-free products and giving back to the planet. Ecoroots is not only selling shampoo and conditioner bars. They are actually a full-on zero-waste store.
Handmade of coconut oil and cocoa butter-based, this zero waste shampoo bar will leave your hair soft, clean, and nourished without stripping away your natural oils or hair color. Their eco-friendly shampoo bars are unisex and work great for all hair types.
Oh and they're 100% plastic-free & travel-friendly too!
4. Friendly Soap
Phthalate Free
Silicone Free
Paraben Free
Palm Oil Free
Vegan & Cruelty-Free
Plastic-Free Shampoo & Shipping
Color-Safe
3.8 out of 5 stars on Amazon
Like the name already says it is friendly to the earth and to your hair and skin, Founded by Rob and Geoff from the UK, they have been using the ancient cold-process method to create their soaps. This means their soap is biodegradable and free from by-products, so there's literally no waste.
The packaging is made from 100%recycled material and is also recyclable. They're also made with only a handful of ingredients like Castor Oil, Coconut Oil, Olive Oil, Lavender and Tea Tree essential oils, water.
5. Emerson Soap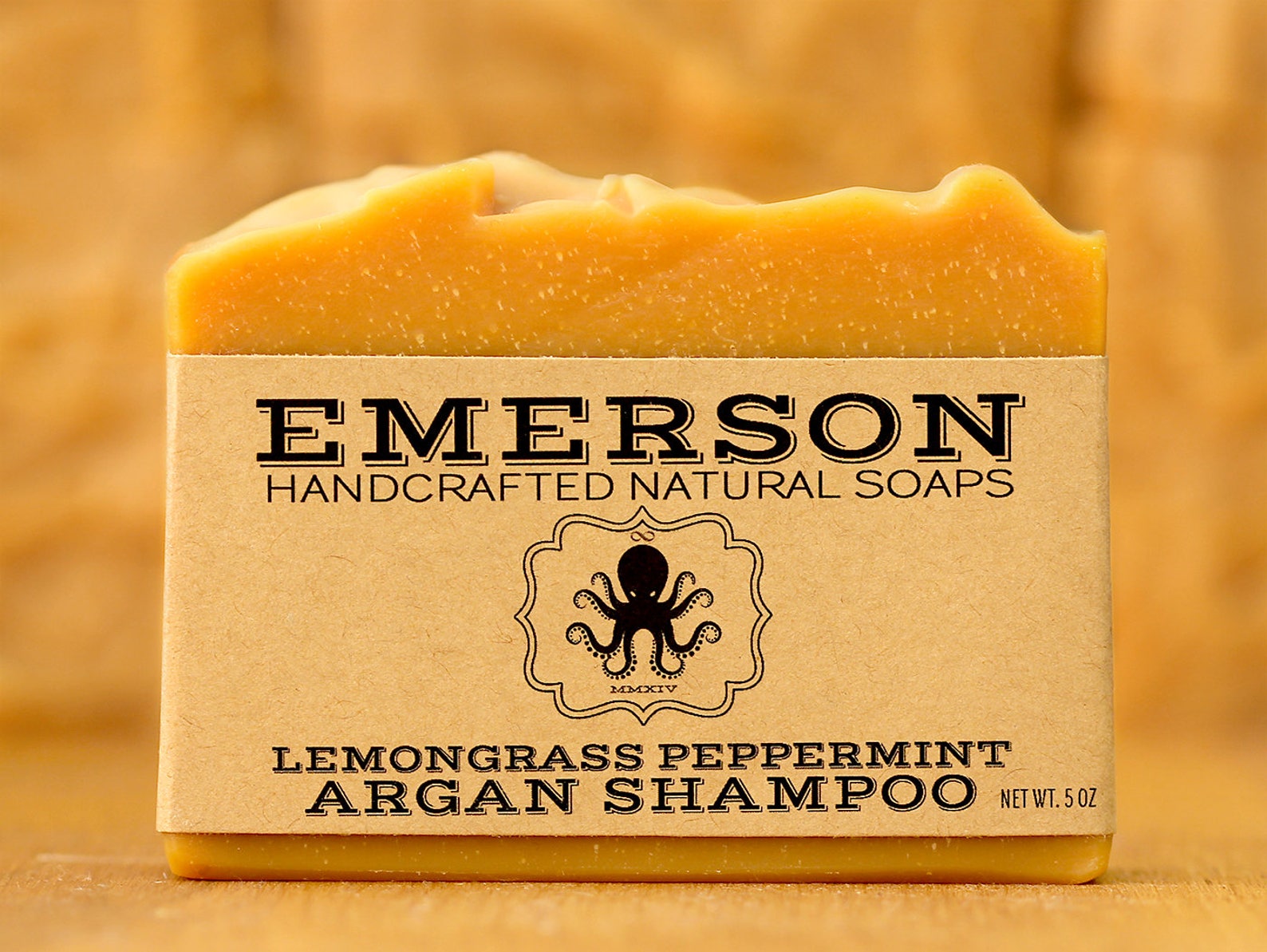 Silicone Free
No Artificial Ingredients
Palm Oil Free
Cruelty-Free
Plastic-Free Shampoo & Shipping
Color-Safe
Emerson soaps are being handmade in Florida in small batches hence why the soap varies in shape.
They are only made with natural ingredients and only use pure essential oils, absolutes, natural clays and botanical ingredients.
Lots of happy customers, worth a try.
6. Lush
Uses SLS which is classified as toxic or harmful
Has Artificial Fragrances
Palm Oil Free
Cruelty-Free
Lush is a well known and big cosmetic brand. But if you want a product with no added chemicals, this is one to avoid. I was a bit sad when I learned that they use SLS to create foam and artificial fragrances. So if you want to use natural shampoo bars then skip this one.
7. Chagrin Valley Soap And Salve
Silicone Free
No Artificial Ingredients (SLS, DEA)
Some Shampoos contain Palm Oil
Cruelty-Free
GMO-Free
Vegan
Tip: Try the Neem and Tea Tree for dandruff, eczema, or psoriasis.
4.8 out of 5 stars on Chagrin Valley
Get $5 off with this link!
Chagrin Valley Soap explains that we were all using natural shampoo bars before the Industrial Revolution. Only since the introduction of liquid "detergents" is our hair been stripped from natural oils and we need to use conditioner to add the oils back to our hair.
Thankfully you are here to move away from traditional shampoo and perhaps test one of the charging valley hair care products.
Some shampoos contain sustainably farmed palm oil, which can leave a residue in your hair. They also make an apple cider vinegar rinse to get rid of any residue.
First, they add lots of herbs and botanicals to the oils, and only then the creation of their vegan shampoo bar begins. Great for frizzy hair.
8. Unwrappedlife
Unwrapped Life
Paraben and phthalate-free
Essential oil and synthetic scenting
Palm Oil Free
Extension and color-safe
Plastic-Free Shampoo & Shipping
Vegan and Cruelty-free
Try the DAYTONA SHAMPOO BAR for oily hair.
4.8 out of 5 on Unwrapped Life
Unwrapped life is coming to you out of Canada. Formed by two female friends who saw the plastic problem as a challenge to create luxury hair products without the trash. Unwrapped life has joined forces with Plastic Bank to combat further the millions of plastic bottles ending up in our landfills. Here is how:
Plastic Bank® empowers vulnerable communities. Collectors receive a premium for the materials they collect, which helps them provide basic family necessities such as groceries, cooking fuel, school tuition, and health insurance. 
9. Kitsch
Kitsch
Silicone Free
Paraben-Free
No Artificial Fragrances
Phthalates Free
Vegan and Cruelty-Free
Palm Oil Free
Tip: Won best hair care products on the ZOE Report.
Female-founded and owned, Kitsch is a beauty powerhouse built on positivity and pure hard work. Kitsch founder Cassandra Thurswell had a big dream when she moved to L.A. She wanted to create something that would mean something to people. Now you can find some of her products on the shelves of Whole Foods, Ulta and Sephora.
10. Bar None
Bar None
Silicone Free
No Artificial Ingredients
Palm Oil Free
Cruelty-Free & Vegan
Plastic-Free Shampoo & Shipping
5 out of 5 stars on Bar None
If you are looking for an allrounder, then look no further. Bar None is a shampoo and conditioner in one. The hydrating conditioner bar is packed solid with nourishing ingredients that smooth and soften your hair. Minimize frizz and add shine without compromising on texture.
Bar None also delivers shampoo and conditioners in aluminum bottles which are infinitely recyclable.
Zero waste liquid shampoo
Yep, it does exist, and Plaine Products has one of the best solutions. Not only do they create an amazing shampoo and conditioner, but you can get their products on a subscription basis, so you never have to worry about buying shampoo again.
Plaine
Reusable + Refillable
Silicone Free
Palm Oil Free
Cruelty-Free | Non-GMO
Plastic-Free Shampoo & Shipping
Color Safe
Sulfate-Free
Get 10% off when you subscribe.
NON-TOXIC, VEGAN, AND CRUELTY-FREE PERSONAL CARE PRODUCTS
It is probably the only shampoo on this list that doesn't come in a bar format.
And you know we are totally fine with that.
Why?
The aluminum bottles are 100% recyclable and not only that, but they also offer a refill program. Once you have used up your shampoo and conditioner, you send the empty bottles back and keep the pump for your next plaine shampoo.
You can subscribe to get your shampoo before it runs out, or order when you are running low.
Clean the old bottle and put it back in the return box. Once your box is full hand it to the mailman and voila the shipping cost is covered by plaine. 
What we love about them:
Part of 1% member of the planet and certified b corp.
Seed Phytonutrients
Silicone Free
No Artificial Ingredients
Palm Oil Free
Cruelty-Free Silk
Plastic-Free Shampoo & Shipping
Color-Safe
Get 10% Off with code ZEROWASTEMAN
In the end, this is just a tiny selection of soaps that are out there. But I know how it feels when you are standing in the supermarket in front of the shelf trying to pick the right product out of 200 options.
My hope is that depending on where you live you find something in your country or at least nearby. Remember the carbon footprint from travel.
Even better if you go to your local zero waste store and get it there. The one near my place actually makes its own soap, and they have a soap-making class, which is pretty cool if you want to do it yourself.
Rule of thumb: If you come across some soap that isn't listed here, but you need to get soap, check and make sure that the soap does not contain any of the following:
SLS
phthalates
silicone
palm oil
artificial fragrances
Usually the fewer ingredients, the better. And obviously the packaging. If it is wrapped in plastic, make a statement by not buying it and be proud of yourself. Happy shampooing.
Disclaimer:
I have not used every shampoo myself, and I am not responsible for your skin. I researched the heck out of it and often use amazon reviews to help you make a clear decision. However, I would in most cases suggest buying through the company itself, since amazon often uses plastic packaging even for their zero-waste shampoo bar section.
Also if you like to change the settings on amazon to receive more eco-friendly packaging, check out this video I made.
Also if you like to look for more than just shampoo bars check out my latest article on The 18 Best Zero Waste Online Stores For Plastic Free Shopping.