Quick Links
In a recent article, we discussed how we could create an eco-friendly shower by using water-saving shower heads and collecting water. Since we also briefly discussed how we should replace our old plastic shower curtains with new ones made from natural materials, I will go into more detail with you here in this article.
Why is it so important to have non-toxic shower curtains?
Most shower curtains are made from PVC (polyvinyl chloride), which is known to require toxic chemicals and phthalates that are well-known carcinogens and can lead to many health problems. PVC also produces: Dioxins – Dioxins are highly toxic and can cause reproductive and developmental problems, damage the immune system, interfere with hormones, and cause cancer (World Health Organization).
Another option is nylon curtains. Although nylon is generally safer than PVC shower curtains, if a nylon product is labeled waterproof, it will often be mixed with chemicals that can make it toxic. So check the label if you buy curtains made from nylon fabrics.
Both are made from crude oil, a non-renewable resource. On top of that, replacing your old shower curtains with an eco-friendly shower curtain greatly reduces the number of toxic chemicals you expose yourself to in the shower. Those chemicals have been known to lead to
Fertility issues
Low sperm count
Even cancer
Most of us would like to live a long, healthy, vibrant life. Since you are already on a journey to make your home and lifestyle more eco-friendly, replacing carcinogenic items with natural ones makes a lot of sense.
However, do not fall into the trap of replacing everything you own with some eco-friendly or sustainable alternative. I suggest slowly phasing items out of your life when their lifecycle ends. Otherwise, this isn't in the eye of a circular economy. And we know many companies jump on the "green" bandwagon to try and profit from our goodwill.
Hence, we have created this list to help you see through the curtain, pun intended.
Also, if you are new here, consider subscribing and check out the zerowasteman youtube channel.
The toxic chemicals lurking in your shower curtains?
PVC or polyvinyl chloride is a type of plastic used in children's toys,(shocking) the automobile industry, building materials and even food packaging. While this type of plastic has been described as the most toxic, the chemical polyvinyl chloride that makes PVC has been known as a carcinogen by the World Health Organization's International Agency for Research on Cancer for many years.

In this case, scientists have discovered that PVC outgases toxic materials into the air in your home or shower, and mix that with hot steam, you have just opened your lungs to receive more chemicals.

Phthalates are a chemical in your PVC shower curtains to make them flexible. They are also endocrine disruptors and can cause fertility problems, cancers and more. You can learn more in this article by Harvard University.

Nylon is another material that is derived from petroleum. While it is said to be one of the safest plastics, it becomes difficult to see as these fabrics are often treated with harmful chemicals, making them more water-resistant or flexible. You can learn more about nylon in this article.
Why is Nylon or PVC used as shower curtains?
Both materials are petroleum based and cost very little to manufacture. Both are water resistant, making them an excellent product for conventional shower curtains. They look and feel nice and can come in many different styles.
Nylon 6 has also been known to be naturally mildew resistant without the need to add more chemicals.
What to look for in a sustainable shower curtain?
A sustainable shower curtain should be made of the following:
Tightly woven organic cotton.
Recycled plastic without any PVC or toxic chemicals.
Hemp fabric.
Linen fabric.
PEVA (polyethylene vinyl acetate) and EVA (ethylene vinyl acetate) have arisen as PVC alternatives over the years and don't contain phthalates

but aren't necessarily better.
A sustainable shower curtain should not off-gas any chemicals; even manufacturing these curtains should be transparent and easy to follow for the consumer. If you have difficulty finding the company's sustainability practices, this should be a red flag, and better to avoid them.
The idea of shower curtain liners is to prevent water from going everywhere when you take a shower. Keep your bathroom floor dry and avoid slipping as you enter or exit the shower.
You can find very cheap shower curtains that are generally not made from natural materials but synthetic ones. We have learned that dangerous chemicals are lurking in our clothes and, for this article, in our shower curtains. In the next paragraph, we will explain all the different materials you can use and the ones you better stay clear of.
The different materials used for shower curtains.
Hemp shower curtains
Hemp curtains are some of the best alternatives for a non-toxic shower curtain. Hemp is a plant that doesn't require much water and doesn't need fertilizers, and it grows fast and benefits the soil since its root system aerates the ground. Hemp is a very eco-friendly material that can be used for fashion and, in this case, for a hemp shower curtain.
Additionally, you can add wax to make it water-resistant. Yes, tightly woven Hemp shower curtains will not let water leak through. This means they do not require any vinyl lining to make them waterproof, making them the best non-toxic shower curtain that is biodegradable at the end of their lifetime. Plus, hemp is naturally mildew resistant.
Check out below some brands that make hemp shower curtains.
Organic cotton shower curtains
Cotton curtains are the second best alternative to non-toxic shower curtains. They are not as water repellent as their competitor, the hemp curtain but again, when well made and tightly woven, they work quite well as a shower curtain.
The material is quite heavy, so you won't find them wrapping around you in the shower as most plastic shower curtains do. However, cotton is not mildew resistant and can stain over time.
PEVA shower curtains
Peva is another type of plastic used in many common household products, like kids' toys and tablecloths. Peva is not made with chlorine and therefore was created as a 'healthier' option to PVC.
It works well as a shower curtain since it is waterproof, easy to clean, and durable. But is it safe for the individual and the environment?
What we do know is that this material is free from phthalates. PEVA or polyethylene vinyl acetate is, however, not safe to be used around living organisms. This study shows that it affects our health and is not a healthy alternative to PVC. So I would stay away from PEVA curtains.
Nylon shower curtains
Nylon is a very cheap option for shower curtains. However, I have found that some companies use chemicals to further waterproof the curtains. On another note, your nylon shower curtain is not biodegradable and contributes further to microplastic pollution when washed.
Polyester shower curtain.
Or PET curtains are, you guessed it, not a healthy option for your bathroom. They are cheaply made and often combined with chemicals to make them more flexible and waterproof. Stay away from them.
Recycled plastic shower curtains
Recycled plastic curtains are a great way to collect some of the millions of plastic bottles discarded daily. They are essentially made from polyester, which is water-resistant and shrink-resistant, but may off-gas chemicals if further treated.
What are some eco-friendly shower curtain alternatives?
Since I was looking for a water-saving shower head on Nebia's website, I discovered that they also sell recycled plastic bottle shower curtains. Over 41 plastic bottles go into their curtain. Yes, they are made of polyester, which seems to pop up everywhere I research.
Nebia's Non-Toxic Shower Curtains
Nebia has a very innovative and water-saving shower head. They have also decided to turn used and discarded plastic bottles into non-toxic shower curtains, which is the perfect minimalist plastic shower curtain.
Price $119.00
PRODUCT SPECS
72″W x 72″H (1.8m x 1.8m)

5lbs / 2.25kg (out of the box)

Curtain, liner and 12 pre-assembled hooks included
If you don't want to have any plastic in your zerowaste bathroom, you might find the solid hemp shower curtain more attractive.
Rawganique
Rawganique comes in a bit cheaper, from $55 to $110. This doesn't mean that you are losing in quality at all. Rawganique is very transparent about where they get their materials from and how they manufacture everything. Founded in 1997 by an off-grid community, they have become a big player in the game of toxic-free products. From soap to t-shirts, there is something for everyone.
100% organic hemp shower curtain. Plastic-free, PVC-free, chemical-free, and non-toxic. 16 colors. 10oz. They feature handmade hemp macrame rings. These curtains come a little extra long, which you can fix by either prewashing them, and they will naturally shrink, or you can cut them shorter. I would recommend washing them first.
YOu can get a wax to make your hemp shower curtains more water resistant, and if you want to avoid seeing any changes in color from mold, opt for the darker colors, and you won't see any stains.
Price: $109
Coyuchi Non-Toxic Shower Curtains
Coyuchi has been around for three decades and started to make the highest-quality products while leaving the least possible impact on the earth. Coyuchi makes a Turkish cotton shower curtain made from 100% organic cotton using a special technique to make them dry fast and last long. Ethically made in Turkey, these curtains are beautiful to look at and give your bathroom that spa feels.
They also offer a take-back program that underlines their commitment to the sustainable shower curtain and creating a circular economy. On top of that, they are a 1% member of the planet, Fair Trade Certified, Made Safe, and Organically certified.
Finished with a GOTS-certified process that prevents shrinkage.
Price: From $130 to $200
Parachute Non-Toxic Shower Curtains
If you are looking for a minimalist shower curtain, then Parachute might be the answer.
It makes linen shower curtains, organic cotton shower curtains, and Turkish waffle shower curtains that are simple and beautiful. Grab some nice shower curtain hooks, and you are ready to indulge in a spa-like bathroom experience.
Made from the European flax plant,
is a climate-neutral company with plenty of beautiful solutions for your bedroom. They use responsibly harvested and accredited materials GOTSⓇ-certified, Oeko-TexⓇ-certified and timeless, durable essentials. The manufacturing process is Fair-Trade certified. While no one is perfect, Parachute has some great goals for the coming years; you can check out their Our Commitments page
here
.
Price: around 100 USD plus hooks.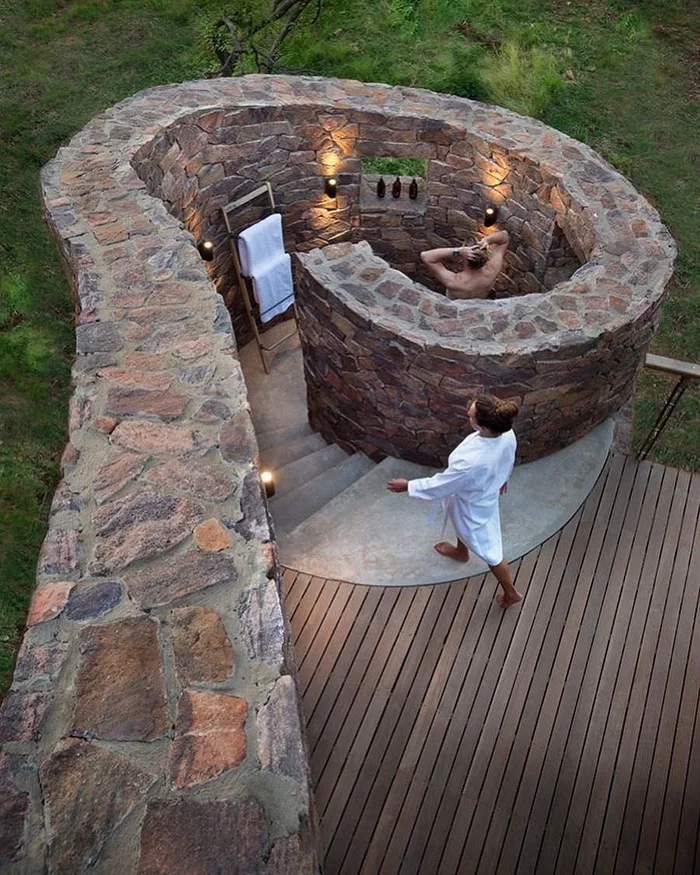 What about no shower curtains at all?
This depends on the setup of your bathroom. If you have an open shower and it is easy to swing a mop through once you are finished showering, why not do that and completely avoid all the hustle of shower curtains?
Alternatively, you could redesign how your shower is built and use a part of the wall to block the water from going everywhere.
Or you could install glass doors instead of a shower curtain. These look great and are easy to install. If you have a little DIY experience. Worst case, you can always ask a friendly neighbor or an installation guy to install the glass panels in your shower.
How to clean your shower curtain?
Ok, now that you have chosen an eco-friendly shower curtain, how do you keep it clean? Sure, it gets wet every time you shower, but that doesn't count as cleaning. We recommend throwing your curtain into the washing machine monthly and adding some bicarb soda and tru earth or earth breeze stripes.
I even presoak them in vinegar and bicarb to ensure they don't take on any mold or smell. Yes, some curtains, like nylon shower curtains, are made to resist mildew, but here, we want to address fabric shower curtains made from natural materials.
Learn how to clean with vinegar in this article, and if you want to know which zero-waste detergent fits your budget, check out the Tru Earth vs. Earth Breeze article here.
Be sure to air dry your curtains completely and even let the sun do its magic, preventing mold from forming. Another little but crucial tip to extend the lifetime of your shower curtain is to air out the bathroom after you have had a shower or bath, allowing the curtain to dry fully.
And make sure to turn on that bathroom fan.
How to measure your shower curtain?
A quick, handy guide to ensure you buy the right shower curtain.
Grab a tape measure and measure your shower from wall to wall

Add 12 inches or 30cm to your measurement to allow the curtains some room and not look stretched.

Hold your tape on the floor to measure the height and bring it up to your curtain rod.

If you use a curtain with rings, subtract 8- 10 inches or 20 – 25 cm. This shouldn't matter too much, as you can always adjust the curtain rod later.
Voila that should get you ready to order the right size curtain. The natural shower curtain material will often come a little bigger since it will shrink after the first wash. Otherwise, you can also shorten or hem the fabric.
Final thoughts
Whether you opt for a fabric shower curtain or a peva shower curtain, grab a natural shower curtain or one of the cotton waffle shower curtains. In the end, we hope that this post has empowered you to make the right decision for your eco-friendly home.
Let us know how your experience went in the comments below. Happy showering.