Get 40% Off Through This Link
Quick Links
In the last couple of years, we have seen many ecopreneurs (yep, that's a term) coming up with new solutions to battle our ever-growing plastic pollution problem. And liquidless eco sheets are one of many inventions.
While some of these solutions are more effective than others, we're always happy to see people thinking outside the (plastic) box.
We mentioned the guppyfriend bag to collect microfibers and the PlanetCare filter for external microfibers.
Earth Breeze Eco Detergent Sheets Review
Enter Earth Breeze and their earth-friendly laundry detergent sheets. We were intrigued by the concept and wanted to put them to the test, so we ordered a pack of earth breeze laundry detergent eco sheets and started our experiment.
The first thing we noticed was the smell of the detergent sheets. It's mild but pleasant; they also come in a fragrance-free version. The next thing we noticed was how easy they are to use. You pop a sheet in the washing machine with your clothes and let it do its thing.
We were impressed with how well the Earth Breeze detergent sheets worked, and they got our clothes clean and fresh-smelling without any nasty chemicals in regular laundry detergents. We're also happy to report that they are biodegradable and compostable, so they won't end up in landfills.
We recommend Earth Breeze detergent sheets if you're looking for a more earth-friendly laundry solution. They're easy to use, effective and kind to the planet. Win, win, win!
Earth Breeze Environmental Claims
When you purchase Earth Breeze laundry sheets, you're doing your part to help the environment. That's because Earth Breeze is a 1% for the Planet member. This means they donate 1% of their annual sales to environmental causes. Additionally, they offset their carbon emissions through the We Are Neutral program. So, you are getting a great product, but you're also helping to make the world a little bit greener.
When you purchase Earth Breeze sheets, you're doing your part to help the environment with a great eco-friendly alternative to traditional liquid detergent.
We were very excited when we heard about the laundry detergent sheets from earth breeze since plastic pollution is no joke, so zerowasteman even made a video about it. This one is from Tru Earth, one of Earth Breeze's competitors. Yes, they look very similar, but Earth Breeze is putting in significant effort to stand out.
Well, if you compare their Instagram, Earth Breeze is smashing it.
Where are Earth Breeze laundry sheets made?
So where are earth breeze laundry sheets made? Yes, they make the eco sheets in China, unlike Tru Earth, which makes them in Canada, but that doesn't mean they are low quality.
Read the total Tru Earth Laundry Sheets Reviews here.
A significant advantage of producing this great product overseas is the cost. 
Sixty-four loads of Tru Earth's laundry sheets are $25 when you subscribe, while Earth Breeze offers a whopping 40% off for a subscription bringing the price down to $12 for 60 loads. It reduces the cost of making the laundry sheets overseas much more than in Canada, and both offer free shipping and a 100% money-back guarantee.
Let's get into the nitty-gritty stuff with that out of the way.
So who the heck is Earth Breeze, and why should you try them?
Earth Breeze is an American company founded in 2020 in Miami, Florida.
They noticed the problem of 700 million wasteful plastic jugs ending in landfills every year, just like Tru Earth saw that…
Not only are these big plastic jugs mainly filled with water, but they often have a list of ingredients that only a Harvard professor can decipher.
Sadly recycling is not working, and worldwide we only recycle 9%; the rest ends up in our ocean or gets incinerated, releasing more carbon dioxide, the leading cause of climate change.
Did you know that Laundry detergent is among the top requested items at homeless shelters, homeless outreach, veterans organizations, women's shelters, animal care shelters, and disaster relief?
With Earth Breeze, you can do your part from the comfort of your home but you might be wondering where to buy earth breeze? Right here 🙂
Buy earth breeze here and get 40% off.
We love that they are a 1% for the Planet member and give back to charities that plant trees and do ocean clean-ups. Also, they donate ten washing loads to people in need for every pack you purchase; pretty cool.
But if you are after some Earth Breeze free sample we have to disappoint you, but they offer a Try It Risk Free option with a 100% satisfaction guarantee. 
Since the packaging is made of paper, they promote a more environmentally friendly lifestyle by eliminating the use of plastic packaging and replacing it with 100% biodegradable cardboard boxes. They're also allergy-free, and they don't conduct animal testing. The free delivery they provide is offset because they contribute money to make the shipments carbon-neutral.
They are cruelty-free, bleach and dye-free and vegan, and animal friendly. 
Why are we even talking about this, and how is it saving the planet?
First, washing our clothes has a huge carbon footprint that starts with using a lot of water to clean our clothes, how often we wash our clothes, and the quality of our clothes. What do I mean by that?
Have you ever heard that our clothes shed millions of microfibers during each wash that end up in the environment and eventually on our plates?
Check out this article if you want to learn more.
Detergents are designed to make your clothes shiny, bling, bling new. At least, that's how they advertise this stuff. And yes, all of them, except for the new detergent sheets, are heavily packaged in wasteful plastic jugs that litter the environment or end up in landfills. 
So what is the alternative, you might be asking? Earth Breeze and others have come up with 100% biodegradable packaging, eliminating heavy plastic containers and liquid detergent.
It also reduces the carbon that big trucks and cargo ships produce to transport plastic containers worldwide.
Sure Earth Breeze still needs to use those to get their product to send around the world, but it weighs a lot less and uses less CO2, remember, they are offsetting the cost by donating money to WE ARE NEUTRAL.
What are the Pros and cons of detergent sheets?
Pros:
Easy to use, no-mess laundry product
Safes space in your cupboard
Zero-waste packaging
Phthalate and phosphate-free
Free shipping straight to your door
Eliminates plastic jugs
Vegan and cruelty-free
Money-saving subscription plan starting at $12 per month
100% satisfaction guarantee or money back
Baby-friendly formula
Greywater and septic safe
Cancel anytime 
happy customer reviews
Cons:
Includes chemicals polyethylene glycol (a nontoxic water-soluble fusogen, which is approved by the FDA)[1], and alcohol ethoxylates (obtained from the reaction of lauryl alcohol derived from natural and renewable sources with ethylene oxide)[2]
Not widely available in stores
Delivery can be a bit late. We have noticed
How to use Earth Breeze Laundry Sheets?
Earth breeze laundry detergent sheets come in two versions:
The fragrance-free and the scented
A single load requires one sheet. For tough stains, they recommend using two sheets. For a small load, you can use half a sheet.
The prize for 60 regular loads is $20 for a singular purchase or $12 when you subscribe. You can choose how often you would like the sheets delivered to your doorstep from 1 to 4 months and cancel anytime. 
Earth Breeze Ingredients list
The company is transparent and animal and planet-friendly. Vegan substances in their products include:
Glycerol
Primary Alcohol Ethoxylate
Sodium Dodecyl Sulfate
Sodium Acetate Trihydrate
Polyvinyl alcohol
Polyethylene Glycol
Fragrance (for Fresh Scent)
Deionized Water
Starch (corn) 
Which washing machine can I use the detergent sheets in?

Drum roll, you can use them with all types of washing machines.
The front loader, Toploader, and even HE machines all work fine. 

The earth breeze eco sheets are designed to dissolve in cold or warm water thoroughly, and after removing the toughest stains, leave your load of laundry with a fresh scent while doing your part to save the environment.
How do they stand the test with allergies and sensitive skin?
And Earth Breeze has the cleaning power without harmful chemicals and is therefore sensitive to your skin and safe for your baby's clothes.
We used them to wash our baby's cloth diapers, and they didn't work so well for those. When your cloth diaper gets smelly, it is often due to soap residue hence why we wash our diapers with sevens generation, which comes in a plastic jug.

  Check out: How To Use Cloth Diapers.

Again zero waste is not about being perfect but doing your part, and if you don't need to wash cloth diapers, you are good to go anyway.
How do earth breeze eco sheets compare to traditional laundry detergent?
Earth breeze eco detergent sheets are a new type of earth-friendly laundry product that has become more popular.
The earth breeze eco sheets are made from plant-based ingredients and are 100% biodegradable. They also come with a "less is more" formula, which only needs one earth breeze sheet.
Water makes up the bulk of most conventional detergents (up to 90%). Water is being transported across the world in detergent shipments; it sounds strange, right?
One of the drawbacks we see in traditional detergents is the mess. The liquid soap constantly spills down the side of the bottle, leaving a sticky lot in our laundry room. Earth Breeze does not create a bunch.
Is Earth Breeze laundry detergent worth it?
We highly suggest you remove your big plastic jugs and replace them with Earth Breeze Eco Sheets.
You get a whole load of clean laundry every time, and if you have any questions, they have the best customer service.
They always respond to our emails in no time. So follow this link to get some zero-waste laundry sheets and save 40% when you subscribe.
Earth Breeze Reviews
These laundry detergent eco sheets are highly requested as an eco-friendly solution to traditional laundry detergent.
Here are some earth-breeze detergent reviews on Reddit.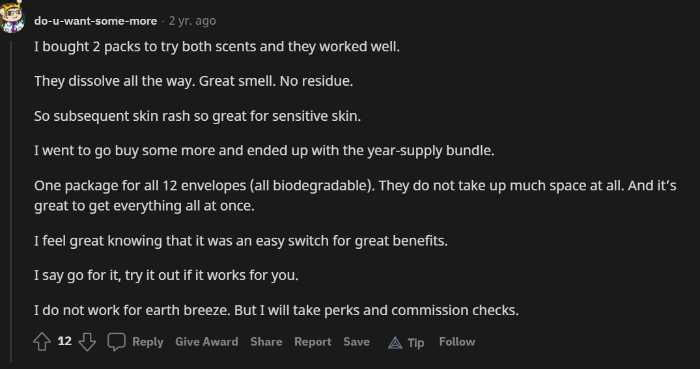 To sum it all up
If you are into zero waste products and want to do your part for the environment and reduce waste, then earth breeze is excellent.
The company is vegan and eco-friendly, and its products are safe for septic systems. You only need one sheet per regular load, making this a very economical laundry solution. The earth breeze review has been positive, with people loving the scent and how well the sheets dissolve in water.
We've been using earth breeze for a while now, and we love it! We have never had any issues with the product, and our clothes always come out clean and smell great.
We highly recommend earth breeze to anyone looking for an eco-friendly and economical laundry solution.
The one-pack option is $20; if you subscribe, you'll receive a 40 percent discount, making each pack only $12.
The company supports many grassroots, national non-profit and charitable organizations through its Buy One Give Ten program. 
Plus, if you are unhappy, you get a full refund, no questions asked, and you can also try a one-time purchase if you don't want to commit to a subscription plan with zero extra shipping costs.

I suggest you remove your big plastic jugs and replace them with Earth Breeze Eco Sheets. You get a full load of clean laundry every time, and if you have any questions, they have the best customer service. They always respond to my emails in no time. So go and follow this link to get yourself some zero waste laundry sheets and save 40% when you subscribe.


What are you waiting for? Get some liquidless eco sheets. And check out their Instagram.
What do you think of the earth breeze detergent reviews? Do you find laundry detergent sheets reviews helpful?
If so, take a look at the tru earth vs earth breeze reviews and find out wich one is better for you. Until next time happy washing.